The Documentary
Benson's Hope
Dreaming to Stand Tall
Produced & Directed by André Campbell
---
Film Festival Official Selection 2017/2018
Cherub Film Fetival
AM Egypt Film Fetival
Cardiff International Film Festival
Hollywood International Independant Documentary Awards
---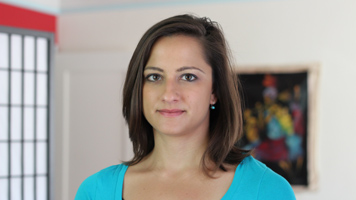 On a trip to Africa, Ms. Masha Balovlenkov, and several others with grant money, would go into certain communities. They were there to help local women empower themselves more, with different programs for them.  This was a goodwill gesture for her. Nothing unusual for her, as her husband and Mom would say, "She's always been a good person."
One day someone asked her if she would look into a certain medial situation, something out of the norm of why she came to Africa.
She was introduced to Benson, a smart 10 year-old Tanzanian boy, living in Moishi. His weight was just only 50 pounds. He was teased, and kicked out of school because he didn't look normal. Benson had a spinal disorder, a curved spine. He was sick all the time, hurting and always in pain.
All Benson wanted was to not be in pain anymore, play and go back to school. And that seemed like it was never going to happen.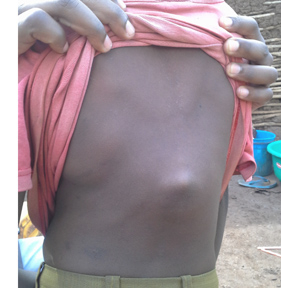 He lived with his grandmother, whose home was made out of mud and sticks. With his spinal disorder, Benson was not made for sleeping on the floor, but he had to. So he endure his nightly pain. He was loved by his grandma who was too old to take care of a disable boy. But that was their environment.

This was his grandma's home, and she is doing the best she can for him. And she was not afraid to keep asking for help for him. Somebody might be listening.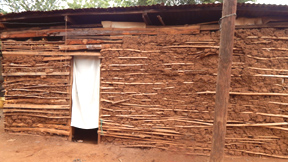 When Masha met Benson, she didn't know what he had. She didn't know how to help him, or what to do. She came back to the states, asked questions and went into medical fund-raising mode.

But one of the main things in Benson's story was that Masha came back.

There are a lot of people who do good work, but they don't come back and the people there have a derogatory word for them. 

Back in Africa, Masha went seeking medical help for Benson. At first he didn't like her, because she took him place to get poked and prodded with medical instruments and hands. Because of that, Benson was not a fan of Masha at the time.

In trying to help as best as she could get him to whatever doctor she could. She got a call from the Tanzanian Embassy, and was accused of child trafficking. And on the phone was screamed at.

But it was the best thing that could have happen. From this, she was introduce to a social worker who help her get the medical ball rolling. She was later granted guardianship, by hunting down Benson's mom. It took awhile, as all you can do is put the word out in community and wait for things to happen.

The good news was they found out that Benson had Tuberculosis, not in his lung, where it is the normal case. Luckily the found it in his spine. The reason for his deformity.

After a doctor's visit one time, Benson could not stand or walk, this particular hospital did not have any wheelchairs. So with the aid of a nurse and a chair Masha was able to get him into the back seat of a taxi and go home. Where the only thing he could do is lay over her lap until he felt better.

After pretending to be nurses with friends one day , Masha was able to get a back brace for Benson to help and start the healing process. Then he was put into a HALO and hung by it for days to help his back get straighter. He hated that. But in the end, it is what worked best for him.

There were time where Masha had to go back to the states, because she also had a life thee. But, she always came back to Benson.
Benson recovered like he was the Wolverine. Instead of months, it was weeks. Now he was eating regularly and staying in a group home, and began going back to school.

Benson now has hope where he didn't have any before. Now he is dreaming. He wants o be a doctor like the ones that helped him.
He has been exposed to technology, like an Ipad, and skyping. Hes got to see the ocean for the first time. He is swiming in a pool.
The only thing Benson wants to do today is be a kid. And go back to school, play and not be in pain.

Masha became Benson's hope for for his future. Now because of her, he can now stand tall. And the world is waiting for him.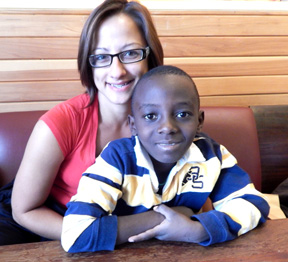 Benson's Hope: Dreaming to stand tall.